---

Banana denim is made from "Banana fibre" derived from the stems of banana trees, which are discarded after harvesting, and "Côte d'Ivoire cotton", which has a feature of simple texture and is grown and harvested by hand.
Combining these two materials, Japan Blue has created a new sustainable textile.
Banana denim features uneven fibres and nep texture. It turns to be a soft and smooth texture like a banana as washed at a high-temperature and given softening treatment.
We are launching new banana denim items that you can wear in all seasons.
---

Features of Banana Fibres
 


○ Excellent water and moisture absorbency, and it is highly breathable because the fibre will swell when absorbing water.
○ It won't be steamed and comfortable due to high heat dissipation which absorbs and release sweat and heat.
○ The staple is longer than cotton so It is lightweight but also has durability.
You can check our blog for more details about Banana denim!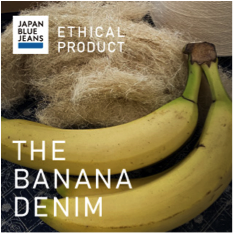 ---
---