Today....
We'll talk about one of the very important and essential machine for jeans shop and for JAPAN BLUE JEANS.
"Union Special"
First of all, what is Union Special?
Just hearing this name, we guess many people don't know what that is. name of product? Tool?
Union Special is the name of sewing machine.
However it's not like a sewing machine that we use at home.
The biggest difference between those two is Union Special is "hemming only"!!!
It is a American hemming machine that has been used since more than half a century ago (call it "vintage" now).
When we use Union Special to hem up jeans, the seams look like chains. That's why we call these stitch "chain stitch".
It looks like a normal running stitch on the front side, but when you roll it up you can see chain stitch on the back side.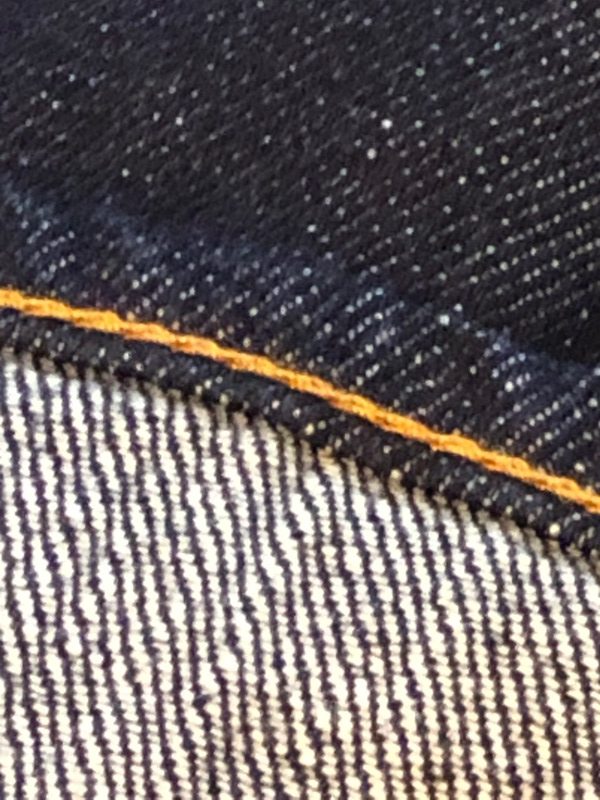 It features a three-dimensional finish that waves like this.
If you wear the jeans hemmed up with these chain stitches for a long time, you can see beautiful "puckering"!!
This undulation is produced when jeans are finished with Union Special because the needle falls at an angle.
When you wear and wash them repeatedly, the puckering comes out like this.
In the end, why is this Union Special such valuable and amazing?
It is said that there are only a few dozen in Japan today, and since they are out of production, they are no longer being produced.
Now you can see it is a very rare sewing machine.
There are no new ones or even spare parts for it, so we use it very carefully.
When you buy jeans from JAPAN BLUE JEANS, we will hem your jeans up with this Union Special for free!!!