FADES GALLERY: JBJ 10th Anniversary Limited Jeans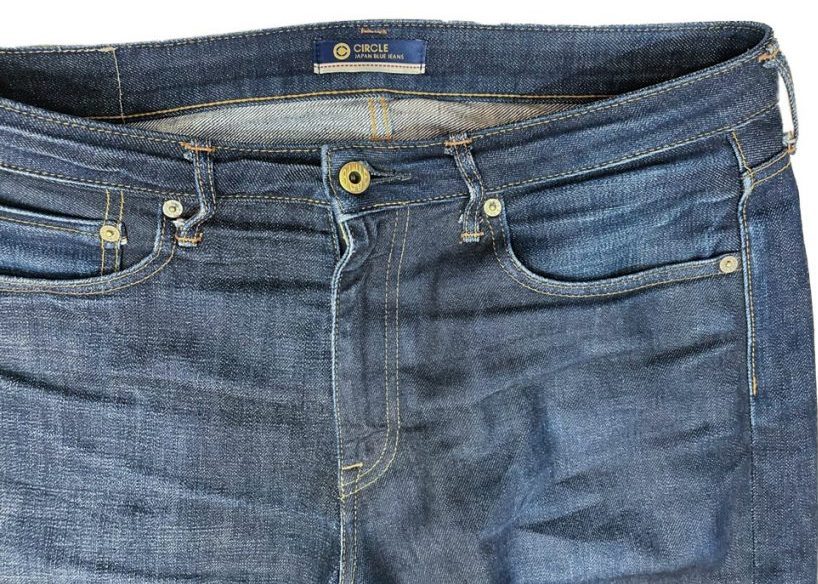 JBJ staff's Jeans Aging Process
Item: J10TH4      *out of stock
Wearing: about 16 months
J10TH4 is very unique piece. Guess what...?
Use 4 kinds of denim fabrics of CIRCLE series in a pair.
【Fabric Map】

Also use 4 different colors of threads to match each fabric.

Sounds interesting, doesn't it?
Let's see how it fades as focusing on each fabric.
First, 16.5oz Côte d'Ivoire cotton denim in the front of right leg.
It is 16.5 oz, yet soft and comfortable to wear, and it fades fast!
According to our wearing staff, he felt that the speed of fading is faster than any other fabrics in CIRCLE series.
He is wearing this in oversized so there are not so many "Atari".
If you like a rough and rugged fabric, this is the fabric for you!

Next, 12.5oz US x Australian cotton stretch denim part in the front of left leg.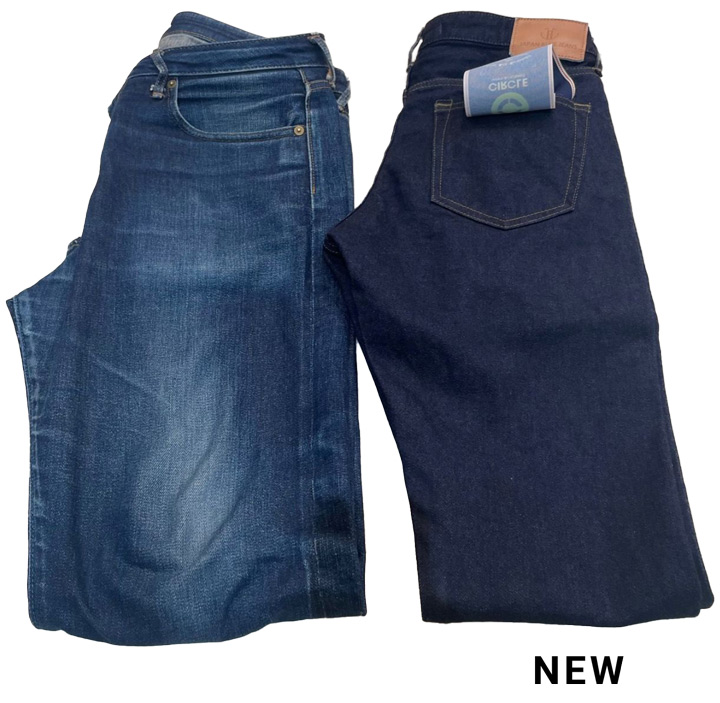 This has stretch although it is selvedge denim, making it easy and comfortable to wear!
The color fades speed is not so quickly as other denim fabrics, but it has a unique stretch cotton luster and beautiful and sharp fades!
This fabric is recommended for those who want easy to wear and don't want to have color fade too much!

The back of right leg, 12.5oz African cotton denim.

This is also 12.5oz and easy to wear, and the best part is that it is made of brown cotton, so if you look closely, you can see that the color fading is also mixed with brown!
The fit is wide (Classic Straight) and he is wearing them oversized, so the "Hachinosu (Honeycombs)" is showing lightly.
We would recommend it for those who want a vintage-like fades and easy to wear!

Lastly, the back of left leg is 14.8oz US cotton denim.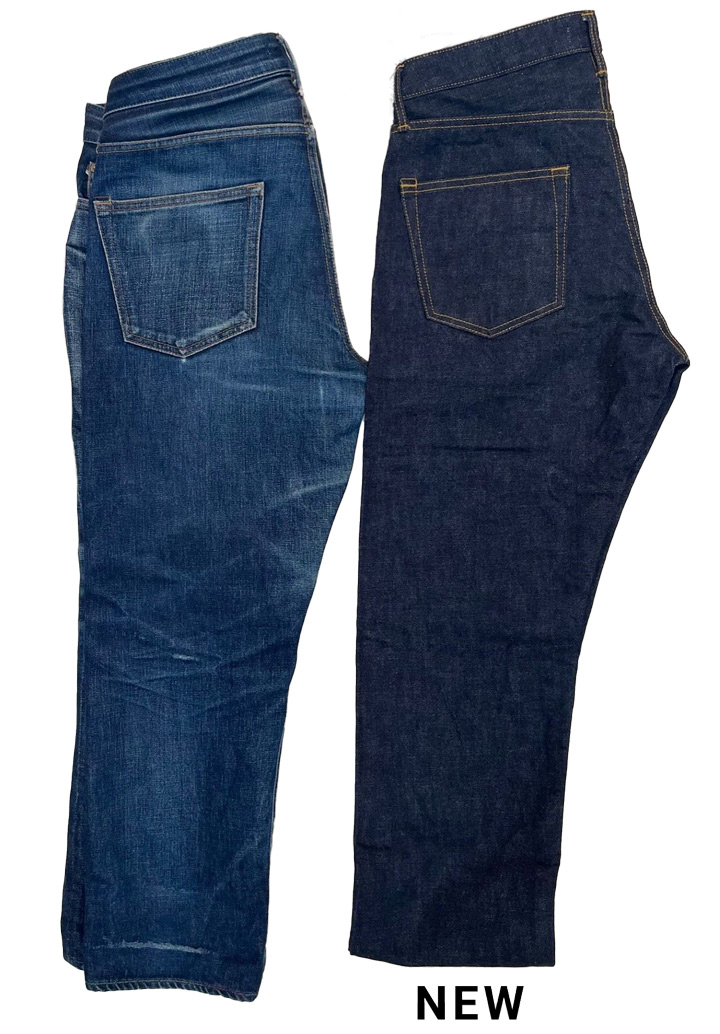 This US cotton denim is woven with ultra-high density, so stays its stiffness while wearing for quite long and fades great.
Favorite part is the fading look like vintage clothes!
It still retains some stiffness, so he's looking forward to seeing how it fades in the future!
We would recommend it to anyone who wants a firm (tough) fabric and a strong fades!

Here are the staff's favorite fading points as an extra feature!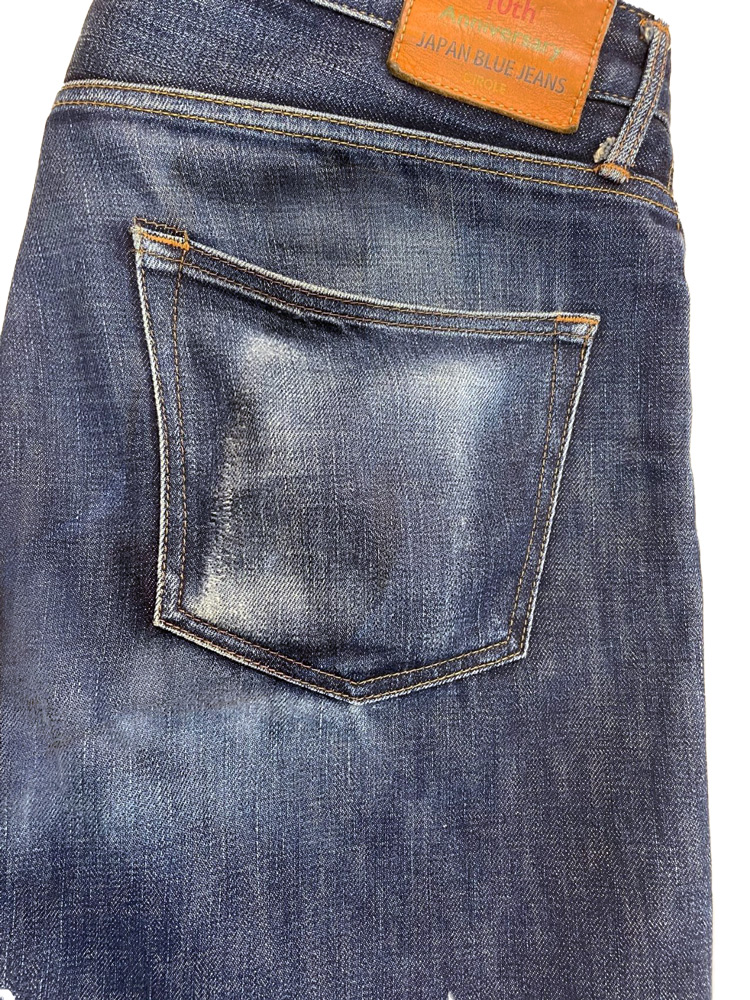 He loves the fade fell on the shape of wallet!
Since this pocket is made of stretch denim and its softness, there is a three-dimensional lifted shape like the wallet were still in it even when took out.
The other one is the selvedge part of right leg.

It's interesting how the different color fades of Côte d'Ivoire cotton and African cotton like the boundary.
We hope today's blog will help you choose the right color fading jeans!
The Classic Straight fit showed today is sold out, but we have a small stock of skinny, tapered, and straight fits.
If you are interested in these JAPAN BLUE JEANS 10th anniversary limited jeans, which can be enjoyed four times in one pair, check them out!